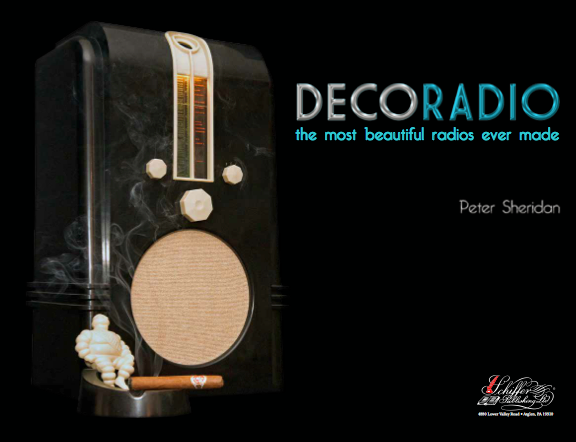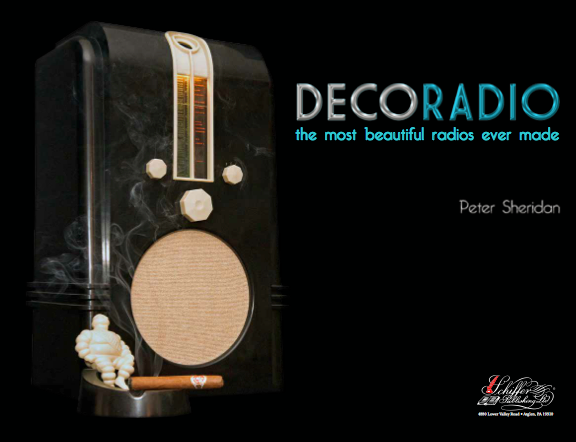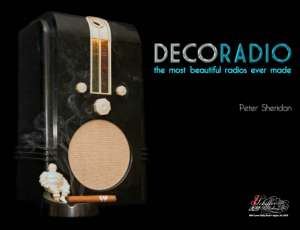 DECO RADIO – The most beautiful radios ever made
Copyright 2014 Peter Sheridan
12″ x 9″ (300mm x 225mm (landscape) 350pp.,
157 GSM matt art paper, hardbound with dust jacket
Schiffer Publishing, Atglen PA 19310 USA
Library of Congress Control Number 2014938005
ISBN 987-0-7643-4605-7
Photography, text and design by Peter Sheridan
DescriptionWith 380 brilliant photos and engaging text, this book presents some 300 of the rarest and most beautiful radios ever made for home or workplace. The advent of the small, mantle or tabletop radio in 1930 gave a huge impetus to the spread of radio, not only allowing multiple sets in the home, but changing the listener from the family to the individual. This book highlights a small subset of tube (valve) radios that incorporated new styling, materials, and approaches to consumer marketing in the 1930s and 1940s. Until now they have been underrated by many radio enthusiasts, and largely unrecognized in the world of Art Deco and Industrial Design. The radios of 35 industrial designers, including the luminaries of streamlining in the USA and UK (Loewy, Bel Geddes, Teague, Van Doren, Vassos, Coates, and Chermayeff) are identified and examples from 15 countries are stunningly displayed.
Full bibliographic data for Deco Radio
Title

Deco Radio

Subtitle

The Most Beautiful Radios Ever Made

Authors and contributors

Physical properties

Format: Hardback
Number of pages: 352

Language

ISBN

ISBN 13: 9780764346057
ISBN 10: 0764346059

Classifications

B&T Merchandise Category: GEN
B&T Book Type: NF
BIC E4L: ANT
Nielsen BookScan Product Class 3: T1.9
B&T Modifier: Region of Publication: 01
B&T Modifier: Academic Level: 05
BIC subject category V2: WC
B&T General Subject: 120
B&T Approval Code: A04400000
Ingram Subject Code: AO
Libri: I-AO
Abridged Dewey: 621
LC classification: TK
Warengruppen-Systematik des deutschen Buchhandels: 14260
BISAC V2.8: DES008000
DC22: 621.38418
B&T Approval Code: A07500000
BISAC V2.8: ANT036000
Thema V1.0: WC
DC23: 621.3841809043022

Illustrations note

343 color & 37 b/w photos
Publisher

Imprint name

Publication date

14 September 2014

Publication City/Country

Atglen PA , USA
Author Information

Peter Sheridan is a respected historian, lecturer, and author, with a collection of radios considered one of the world's finest. His highly acclaimed book Radio Days–Australian Bakelite Radios (2008) is the standard reference for Australian radio collectors. A member of the Australian Institute of Professional Photographers, Peter's photos are used by media, museums, and specialist publications.