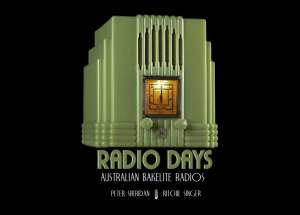 RADIO DAYS – AUSTRALIAN BAKELITE RADIOS
Peter Sheridan & Ritchie Singer
260mm x 300mm landscape, 264pp., 157 GSM matt art paper, hardbound and jacketed
ISBN 9780 6464 90489 Standard Edition $89 Deluxe Edition (limited to 100 copies) $200
Bakelite 2008
REVIEWS
Radio Days is a superlative, luxurious fine book of photographs covering most of the radios we have, or sorely wish we had. After an initial introduction, the text is minimal, as the authors let their incredible photographs of the best bakelite radios Australia produced in the 30s, 40s and early 50s speak for themselves.
Mouthwatering classic radios are on every page of this large landscape-format history making volume. Two hundred and sixty eight pages of the best photographs of radios you'll ever see, each printed in the finest quality on an ebony background – a book destined to become a collectible classic in its own right
You'll be hard-pressed to find other books that compare – on any subject. In fact this historic production no doubt is one of the top five best radio books ever produced in Australia, if not the best.
Reviewed by Kevin Poulter
Radio Waves October 2008
Historic Radio Society of Australia
For all collectors and those who love radio memorabilia. It is the first book on Australian Bakelite radios : coffee table format. The radios, advertising of the day and ephemera are from private collections and have never been seen before, including, of course the social history of the 1930's to the 1950's. The Front cover is a real Art Deco AWA Fisk Radiolette Empire State 1934 to 1937. The back cover is an Astor Baby Football 1948. The Bakelite radio story in Australia commences in Australia with AWA and 3 radiolette models. AWA paved the way for other companies to develop Bakelite radios until the early 1950's,whereby, cheaper modern plastics and transistor radios were developed, and the Bakelite radio " to quote – was seen as a ponderous relic of an earlier era" unquote.
Great photography, lay-out and design.  A De-Luxe edition is limited to 100 copies and available in a slipcase.
Reviewed by Clare Calvert
ABC Local Nightlife
October 2008
– Clare Calve
A unique and beautiful publication charting the history of the Bakelite radio in Australia in the 1930s, 40s and 50s highlighting their art deco design and extraordinary range of colours. Advertisements and associated radio memorabilia also illustrate the changing social conditions of a colourful bygone Australia
Abbey's Bookshop
2008
I had been aware of this book for the best part of a year before a review copy landedon the the doorstep. The first thing that struck me was its size – measuring an impressive twelve inches across by ten inches deep. The page count is equally striking at 264 pages, all in full colour..Like Philip Collins' 'Radios – The Golden Age' of 1987 this book is a game–changer. Since publication the desirability of many Australian bakelite radios has increased and deservedly so. For many collectors (myself included) Radio Days will be the conduit to more than a few worthy additions to the wireless collection. Peter Sheridan and Ritchie Singer present the radios with a black background along similar lines to Collins' Radios – The Golden Age but with the research more associated with John Sideli's 'Classic Plastic Radios of the 1930s and 1940s' of 1990. The photography is of a standard high enough for one to truly appreciate the sets at a level close to seeing the radios in the flesh. Early on in the book a page illustrates Peter Sheridan's collection which has a few UK sets in it making a useful yardstick for seeing what sizes some of these Australian radios come in. The product of AWA (Amalgamated Wireless Australasia) features heavily – the Fisk Radiolette 'Empire State' of 1934 to 1937 probably being the most internationally recognizable Australian radio to most collectors, followed by AWA's 'Fret and Foot' model 35, which looks stunning in black and green. Having looked through the book several times one gets a better feeling for Australian cabinet styling, which starts along North American lines (the Empire State resembles an Air King Skyscraper, but more solid and assertive – I prefer the Radiolette) evolving into a uniquely Australian style illustrated by such sets as the Astor 'Mickey', Kriesler 'Beehive', Astor 'Baby, and Healing 'Moderne'.Readers might recognise a few Philips/ Mullard cabinets from the 1950s but with a stylistic twist and certainly brighter colours. The cabinet of Alba's C112 of 1947 with examples in brown, white, and green makes an appearance gracing sets by Palmavox and Howard, I wonder if there are any blue and pink variants similar to Alba's offering? There probably are! It was a surprise to see a previously unseen Ekco set – the 'Gondola' of 1958, a well proportioned set along typical postwar, pre–transistor lines.
The book contains 400 colour variations of 130 different sets; enough to sort out the next decade or two for any collector ambitious enough to want to acquire examples of the sets illustrated in Radio Days. For those of a less acquisitive nature the book is definitely worth having as an object in its own right. Radio Days is unapologetic in being about appearances only, the authors referring to themselves as 'cabinet freaks'. Speaking as a designer I do not have a problem with that at all, authors like John Stokes and his Golden Age of Radio and More Golden Age of Radio cover the broader picture of Antipodean wireless.
It is refreshing to see a book of this magnitude and dedication being succesfully published. Peter is currently working on another ambitious radio book which will be of a more global nature. It is a shame that the UK has not produced a book along similar lines regarding its' own classic and beautiful radios as it would certainly attract new enthusiasts. The same could also be said for French, Italian and Spanish wireless too! If you are a collector of stylish radios, or would like a radio book with a difference, this is the book for you! Radio Days is not available in the UK and will have to be purchased from Amazon, ebay and the catalinradio.com website.
reviewed by Carl Glover
Editor
The Bulletin
Journal of the British Vintage Wireless Society
pp42-43 August 2009
Finally, this is the book that bakelite radio collectors have been waiting for…it is beautiful, comprehensive, professionally produced and affordable.

From 1932 to 1954…see all the models and all the sets in all their amazing colours. RADIO DAYS is a lavishly produced, beautifully presented 264 page hardcover book displaying over 400 radios in high quality photographs. There are 25 pages of text plus rare advertisements and memorabilia which complement the history of the bakelite radio in Australia.For the first time the major collectors in Australia brought their radios together to ensure all the models and all the variations could be properly photographed and presented together in this unique reference book.

RADIO DAYS is a unique photographic history of Australian bakelite radios and will become the standard reference for collectors. The authors are bakelite radio collectors and the quality of the book and the price reflect their objective to highlight the charms of these wonderful domestic appliances of yesterday and give fellow collectors a book all can be proud of.
reviewed by Catalinradio.com